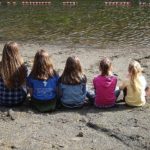 Some parents want their kids to get a great education but don't have the resources to send them to private schools. Homeschooling can be an alternative.
Homeschooling can be particularly challenging for families with a baby or toddler. It's critical to take time with each child and address each child's issues. Look for any activities that are interesting for both ages. Look for opportunities to get your children to interact with each other but do not force them to spend time together.
Textbooks are not the only way to learn. Use selected books and biographies to vary up the experience.   The Rush Revere series, Wallbuilders material, and Hillsdale College lecures are great resources.  Discussing current events is a great way to educate your child about everything from our political system to geography. Also, this will help your child to analyze more, instead of just working off a book.
Set up outings with nearby homeschooling families. This can be lots of fun and your kids can socialize with the other kids. Also, you can get better group rates through this process, reducing your expenses.
Establish a space for your homeschooling classroom. Choose a comfortable and quiet spot. It should have room for dynamic activities as well as writing desks. You need to be able to keep an eye on your kids at all times, too.
Art should be included in the curriculum you design. Your kids can draw what you're teaching them or use other materials to create representations. This allows them to use their imagination and tap into their creative side. Active participation enhances comprehension of lesson material, so the more engaged your child becomes, the better.
Hands-on lessons are the best for children. For example, cook a meal with them that reflects the culture of the countries you teach them about.  Prepare dishes and snacks from the countries you are studying or help your children put together some costumes from the historical periods you studied. When one learns with all of their senses active, they will absorb more information.  Study the lessons of history.
Biographies are an excellent way to improve reading skills, as well as read about great historical figures of the past and learn from them.
When you home school, depending on the curriculum, you can add some things that you think are important for your child to learn.